Dave Kulju – Notes in the Margin

9/10
By Eric Pseja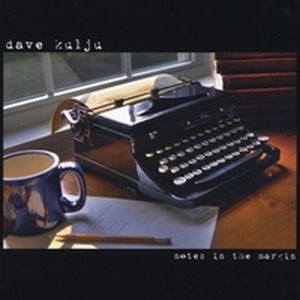 Notes in the Margin finds multi-instrumentalist Dave Kulju serving us a delectable sandwich. On the outside, we have two toasty slices of tasty, interstellar prog-rock. In the middle, we're treated to a magnificently thick spread of creative vision formed from a single musical theme that's approached from five different angles, explored through broadly differing musical moods, and conveyed through the poetry of Amanda Joy.
The album begins with the spacey guitar anthem "Skating on Europa" that rivals any tune by Joe Satriani, but has much more attention to song craftsmanship and textural development as opposed to sheer flash and shred.
"Know Again" follows, brimming with emotion and feeling. The guitars have a very organic, bluesy Eric Johnson character, and the inclusion of electric violin adds a mournful, pleading sonic layer, evoking thoughts of U.K.'s Eddie Jobson.
While piano and keys are found in the first two songs, nowhere are they better presented than in the brilliant, half-hour long "A Poet's Tailspin". The meticulously arranged piano movements really give a sense of purity to the encompassing theme that ranges in delivery from unabashed rock to soft jazz and even spoken word. The inclusion of vocals in Dave Kulju's music is something new, but it's definitely a welcome addition here. Annie Oya's voice is sweet, pure and breathy, luring the listener further into the soundscape like a siren, and helping to propel the music forward with just enough momentum to keep this lengthy song engaging.
Any tranquil state that the listener may have achieved over the previous thirty minutes is quickly slapped aside as "Get the Hell off My Lawn" follows, revealing the bottom slice of our sonic sandwich; rife with adrenaline-laden guitar licks that poke their way through clouds of swirly cyber-rock.
The album wraps with a very Porcupine Tree moment as the sober orchestral passages in "Counted the Stars" are broken up by static-laden radio noise and barely discernible background chatter – perhaps from another planet?
As the listener finishes consuming the album, all that will be left are scattered crumbs, a warm, full feeling, and the knowledge that this particular sandwich is destined to become one of your favorite comfort foods. Thank you, chef Kulju.
Only registered users may post a comment.
There are currently no user submitted comments.