Brave – Monuments
9.5

By R.L.Young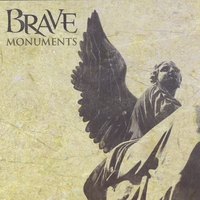 When I first start to listen to a CD I don't read any of the background on the band so I can have an objective observation of the music. I could of sworn the band Brave was one of the Irish bands similar to the Cores with the violin based music and heavy rhythms. This band from Washington D.C. area is one of the most incredible finds of the year. Why this band is not signed is a mystery.
Brave began in 1997 when brother and sister Scott and Michelle Loose began writing with their friend and drummer Trevor Schrotz. Originally called Arise from Thorns (they should have kept that name) their sound became heavier. It is reminiscent of Heart and Kansas combined, but very unique and well-crafted in the song writing, instrumentation, and production.
Michelle's vocals are beautifully subtle with a touch of Maire Brennan of Clannad, but very powerful and moving with a great range of emotions. The guitar work is clean and very nice, but I feel the strength of this CD is in the songwriting. These songs are emotional, healing, intimate pictures with great hooks and lyrics. I almost feel they have gone away from the prog style with a more straight ahead sound. It is not boring and definitely a hard sound, but very beautiful and passionate. Suvo Sur on violin is very exciting and lays on great texture and defines their sound. Ben Kelly on Bass and Matt Kozar on Guitar, Keys round out the lineup.
"Hold On" opens the CD with maximum grind (no Metallica guitar thank goodness). "To Remain Unseen", another notable track, adds depth with a searing prog sound. I absolutely adore this record and am so happy people are creating unique music. I would love to see this band live.
Only registered users may post a comment.
There are currently no user submitted comments.
Powered by Simple Review