Interview with Thomas Brogli, bassist for Switzerland's Felony
By Mike Schlabovits
USAProgMusic: For everyone visiting our website, please tell us a little more about Felony. How did Felony first come into being? How long have you been together? First Act is the band's first and current release; is there a new album in the works in the next year or two?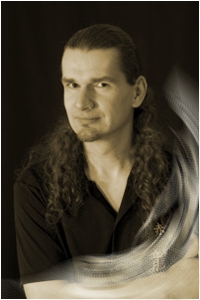 Tom Brogli: We have quite a history, but I won't go into every detail of it, otherwise you'd have to read pages and pages and it might be boring. So I'll try to cut it short; Markus Geiger and I are the remaining 'founding' members of the band. In the early '90s he joined the band I was in and in 1992 we played the very first gig under the name "Felony".
In those early years we also recorded a first demo. But as in many other bands some people left and other people were asked to leave. In 1995 Urs (guitarist Urs Fischer) joined the band as guitarist, and Björn (Rindlisbacher) took over the drums - they still remain in the band today. We also had a new lead singer whom we had several gigs and recorded another demo with as well. In 1998 when we thought it would be about time to record our first full-length album, the singer decided to quit. We then began an almost endless journey to find a new voice for our band. It seemed nearly impossible to find the right guy, and we played a few gigs with our songs rearranged as instrumentals. I know it must sound unbelievable but it took us 6 years until 2004 we finally found Andy (Andreas Wildi), our lead vocalist.
Andrea (female vocalist Andrea Richner) was working with us on the previous demo, so she was the first choice when we decided to record First Works in 2005. By the end of that year she decided to join the band permanently.
As you can imagine through all those years more than just a few songs have been written, so we already have enough material for another album as well as some brand new tunes since First Works was released. So far we've just recorded the demo and pre-production versions of the new songs. The 'real' recording process hasn't started yet, because we're still rearranging and updating some of the old songs and finishing the new ones. We have also played a few of the newer songs at our recent gigs.
USAProgMusic: I will be the first to admit that while I have your album and enjoyed the heck out of it, I am not a Felony expert. With that in mind, I'm guessing you guys have probably never been over here to the U.S. Does the idea of playing live over here entice you at all? Are you aware of a fan base here in the states?

Tom: Well, I and other members have been to the states, but that was only for private vacation time, so no, we've never played in the U.S. I guess there's almost no band at all who wouldn't like to play in the U.S. including Felony. But, I think this will probably remain a dream of ours - I really don't see that there's a concert booker who might want to pay for our travel & accommodation. If you know a wealthy sponsor, let me know!
I also have no idea of how many fans we possibly might have in the U.S. To my knowledge our record company (Escape Music) doesn't have a distribution partner overseas. 'The Laser's Edge' company was kind enough to purchase quite a few copies of our album from us directly to sell overseas, and some online record shops who specialize in imports carry it, too – but I really have no clue about our U.S. fan base.
USAProgMusic: The line between neoclassical/symphonic/progressive/power metal can sometimes be a very fine line. If you had to put a label on the style of Felony, what would you choose?

Tom: I'd say "symphonic hard rock" with some "melodic metal". Also, one journalist described us as 'symphonic neoclassical metal with AOR', and I can agree with that.
USAProgMusic: To this point, what has been the most memorable show/concert that you've been involved in?

Tom: For me it was the very first show with our singer Andy at the release party for our CD in September 2005. We played in my hometown, so there were all my friends and my family attending. We had a relatively big stage, some nice lights and a screen where images of the different songs were projected on. Fans can check out some pics and video excerpts from that show on our homepage.
Another memorable show was when we played a club in Switzerland that is called 'Z7'. This is THE metal club where many of our favorite bands like Queensrÿche, Symphony X, Nightwish, Europe, Yngwie Malmsteen, Masterplan, Royal Hunt and many more have played over the years. For us to play there was a very special feeling.
USAProgMusic: When recording, does Felony choose to do it the old fashioned way, i.e. everyone in the studio recording their parts around the same time, or do you all prefer to do your own parts and then send them in where they get mixed together?

Tom: We do or did it the "Felony fashioned" way! We recorded all our parts separately. Usually when you do it that way the drums get recorded first, followed by the other instruments and finally the vocals. But we recorded the drums last in the whole process. The reason for that is that Markus has his own home recording studio where we can record everything but the drums. Using a click track he records the guitars and the keyboards. Then I come in with my bass and the vocals and lead guitars follow next. Markus then went to a studio here in Switzerland to do the orchestral arrangements and some additional keyboards. When that was done, the drums were recorded at Sacha Paeth's acclaimed Gate Studios who has worked with bands like Kamelot, After Forever, Rhapsody, Edguy and others in Germany. Our album was also mixed and mastered there.
USAProgMusic: Is there a writing process that the band follows, or is it free game. In other words if someone has an idea they have been working on for a song will it be presented off the cuff? Or is there a definite structure as far as this person always writes the lyrics, this person always does a riff or a melody and so on....???

Tom: Markus has been Felony's main songwriter since the beginning. When he has an idea for a song he usually records a rough version in his home studio with computer drums and mails it to the other members. Then during rehearsals everybody is free to come up with ideas for improvement and changes and we'll try them out. It's really rare that we start jamming and an idea pops up. Also, it's not that the other members are not allowed to write songs, but so far nobody has had any ambition or ideas to do so. The lyrics are written either by Markus or me, simply because we're the only ones who speak decent English.
USAProgMusic: If you could go on a world tour with two other bands, either bands that are in existence today or bands that perhaps disbanded long ago, which two bands would you pick to join you on the tour?

Tom: I did mention some of our favourite bands above, so I would say if we could have the support slot for the next Nightwish tour here in Europe that would be something everybody in the band would sacrifice his/her whole annual vacation time for! For a U.S. tour my wish would be to tour the states with Queensrÿche.
USAProgMusic: Would Felony have any interest in doing a live DVD at some point in the future? Many bands seem to be going that route these days as a way of further promoting their live presence to those who are not fortunate enough to see them live.

Tom: Of course we would love to produce a DVD, but again, it's a matter of money. It would require great funding to deliver something that's worth the money people have to pay. We did record our CD release show with 3 digital handheld video cameras operated by amateurs and our guitarist also did a quick cut of the footage as well. The outcome wasn't too bad. So with a bit more effort in the future we might be able to capture one of our gigs in a way that makes it good enough for a professional release. But that will not be a topic until we have released another album.
USAProgMusic: I'd like to thank you for your time for this interview. In closing, do you have any closing comments for fans reading this interview in both the USA and across the world?

Tom: We'd like to thank each and every person who bought our album. It's much appreciated, especially in times where it's very easy to download music for free. And also thanks go out to all the great webzines like USAProgMusic.com who give us the opportunity to spread the word about our band, we are grateful for that.
Felony's official website: http://www.felony.ch/
Felony's official myspace page: http://www.myspace.com/felonymetal